Welcome on board your luxury Fiji yacht charter
Relax on the trampolines, sip a cold glass of wine, and sample delicious fresh food as dolphins play around the bow. Or chill out with a good book in the spacious shaded area at the stern of the vessel while sailing Fiji.
Come and explore Fiji on your own private luxury Fiji yacht charter on board Aparima…
Aparima
Our boat, 'Aparima', a Lagoon 440, is one of the world's best-designed charter catamarans, and ours has been designed with you in mind…
Having undergone a complete refit in 2017, from cosmetic to mechanical, our Lagoon 440 is fully equipped for overnight charters to remote locations, as well as luxury day charters sailing through the Mamanucas.
She is equipped with WiFi, 220v power outlets, 12v USB outlets, air-conditioning, flush toilets, hot- and cold-water showers, 12KVA generator, as well as a water maker on board, ensuring the utmost in comfort.
You'll enjoy your luxury Fiji yacht charter amenities from the moment you step onboard.
Overnight, or for the day…
Being 44ft long and 23ft wide, 'Aparima' can accommodate up to six guests overnight in our beautiful queen-bed, en-suite cabins, and up to 20 on deck for a day charter.
Sailing Fiji doesn't get better than soaking in the ultimate comfort of our fully equiped luxury vessel.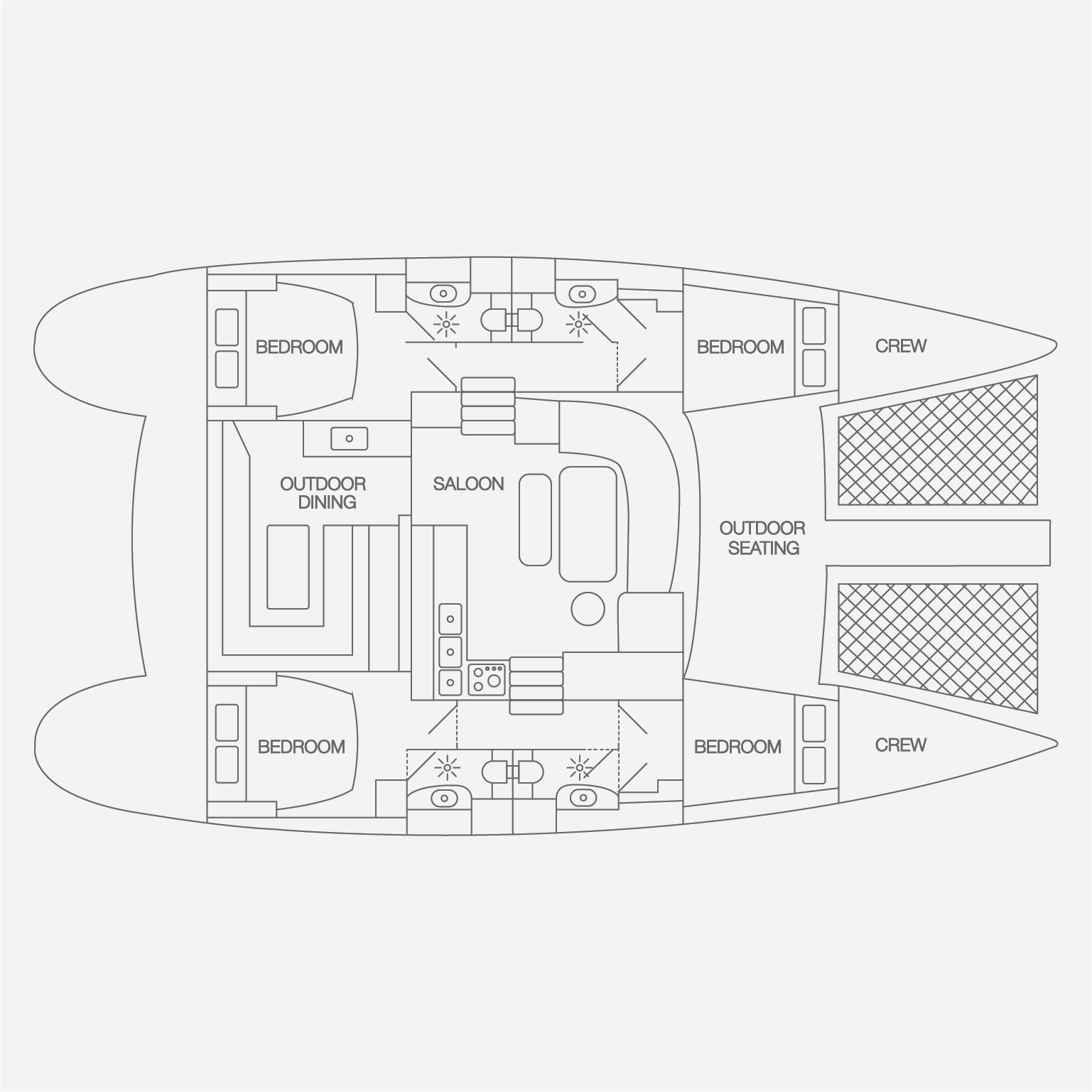 Ultimate in comfort
Sleeping up to six adults in our beautiful double-bed, en-suite cabins, our boat is the perfect charter catamaran for your family and friends to sail throughout Fiji. Each bedroom is furnished with natural timber and luxurious linen to ensure the utmost comfort. Our bathrooms are equipped with Pure Fiji toiletries and soft white towels.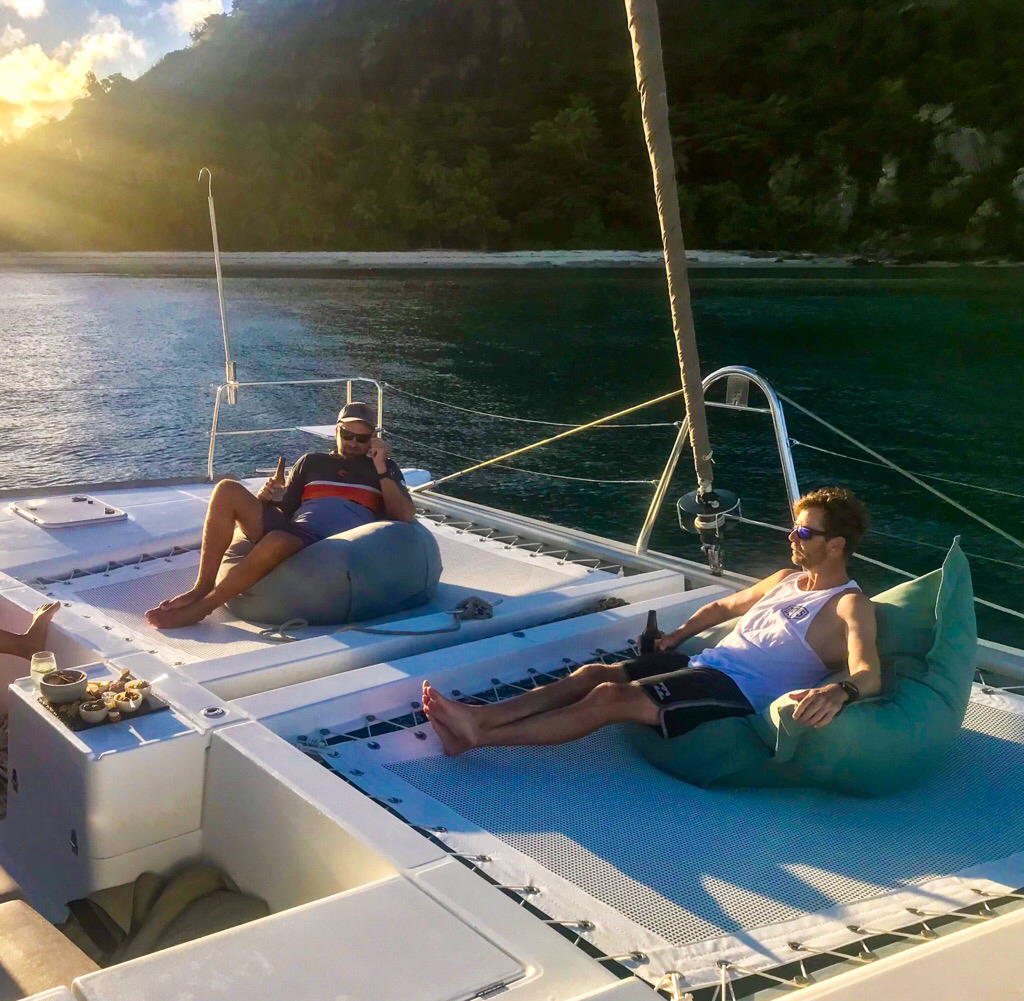 Space to play
Our lounge and dining area provides plenty of space for you to enjoy cocktails and a delicious dinner. And our outdoor space caters for all. Enjoy sunset drinks in the spacious seated area, lounge in the sun on the trampolines and mattresses, or relax with a good book on the bean bags and cushions – you can pick your perfect spot.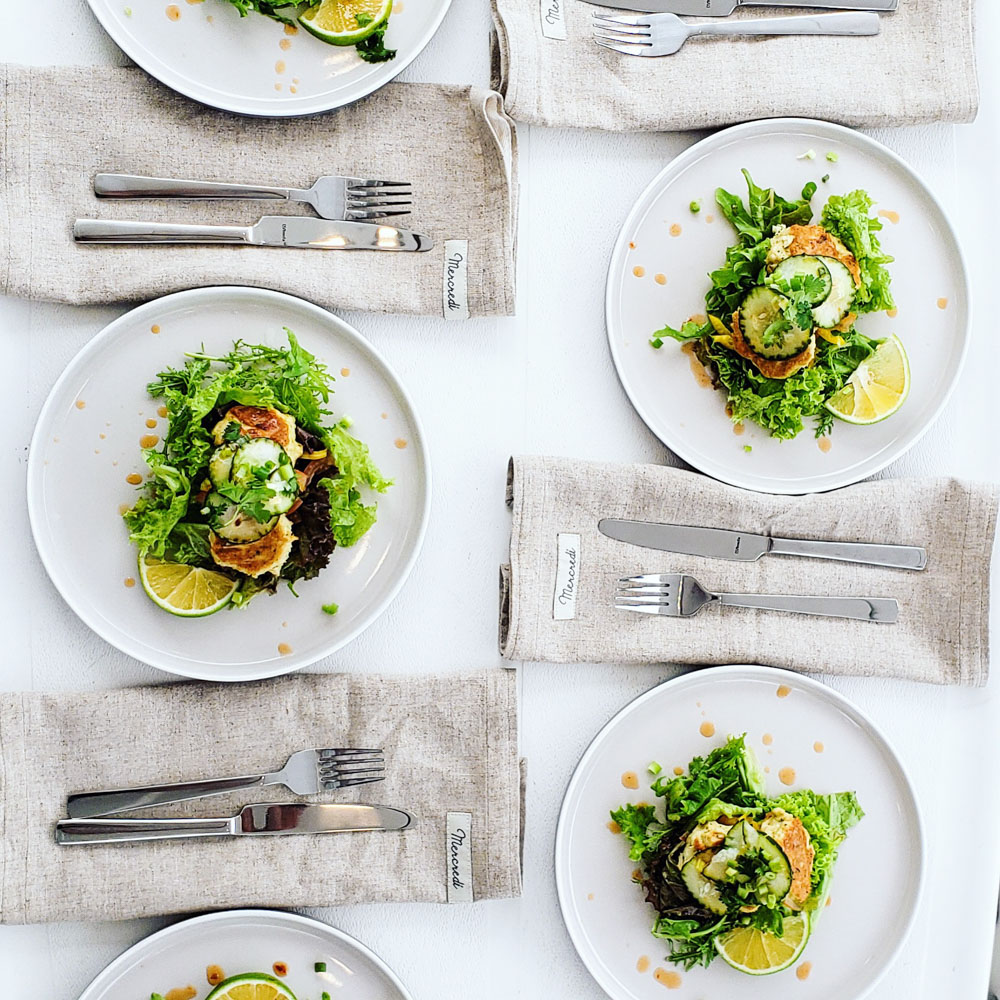 Food on board
We are passionate about food. We use only the freshest of ingredients, and want to ensure that the food on board is the food you enjoy. Don't be surprised if you see our crew heading out to catch you a fish for dinner – there's nothing we enjoy more… And if it's you who's caught the fish, we'll ensure that we cook it to perfection.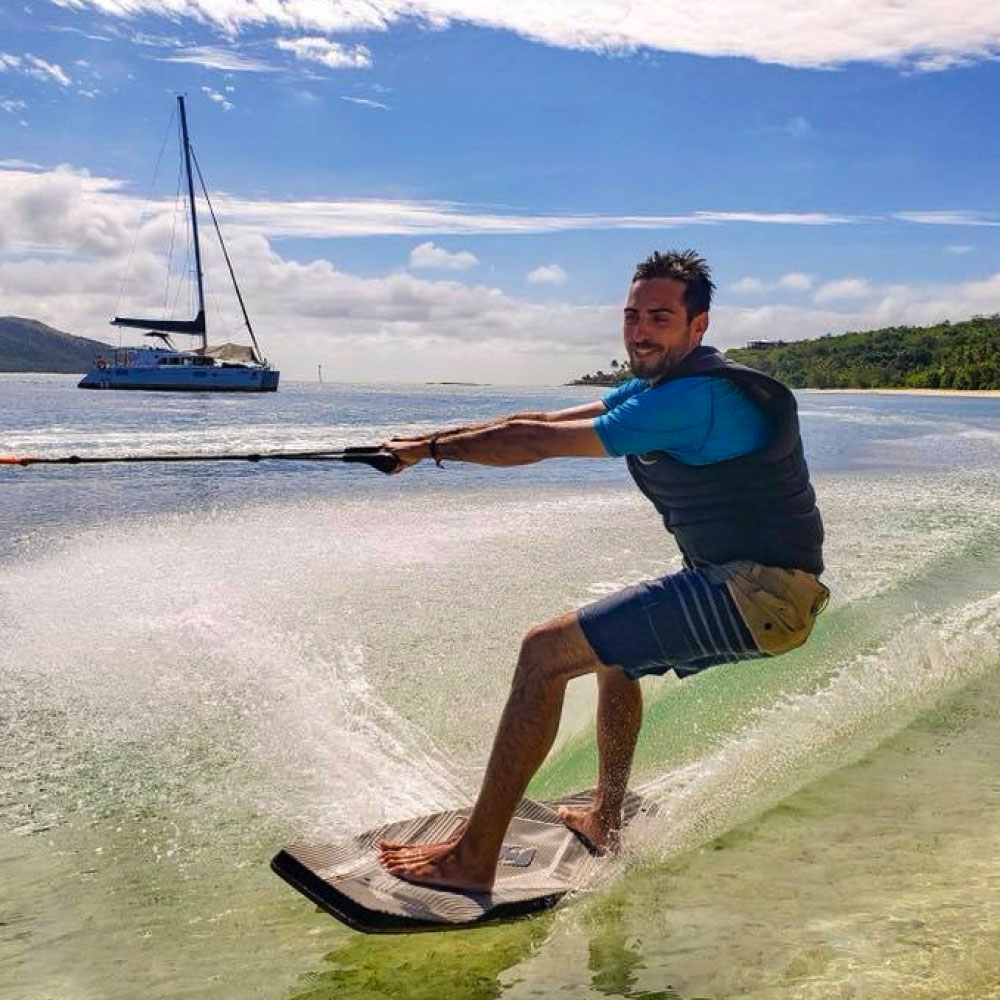 Toys, toys, toys
With ample stowage space, 'Aparima' is fully equipped with all the toys, including paddle boards, diving gear, fishing gear, wake skates, and inflatable biscuits. We have a 20hp rigid tender, as well as a 23ft 60hp Fiji long boat to ensure we can reach those far out diving and fishing spots. This gives you the freedom to pick the activity you want, when you want.
Our Big Blue Fiji crew is one big family and includes a captain, cook, and experienced dive instructor/guide. Our crew have extensive, unparalleled on-the-ground knowledge of Fiji, both above and below the water, and they strive to make you feel part of the family from the moment you jump on board. They are passionate and enthusiastic, and love nothing more than ensuring your luxury Fiji yacht charter is the trip of a lifetime.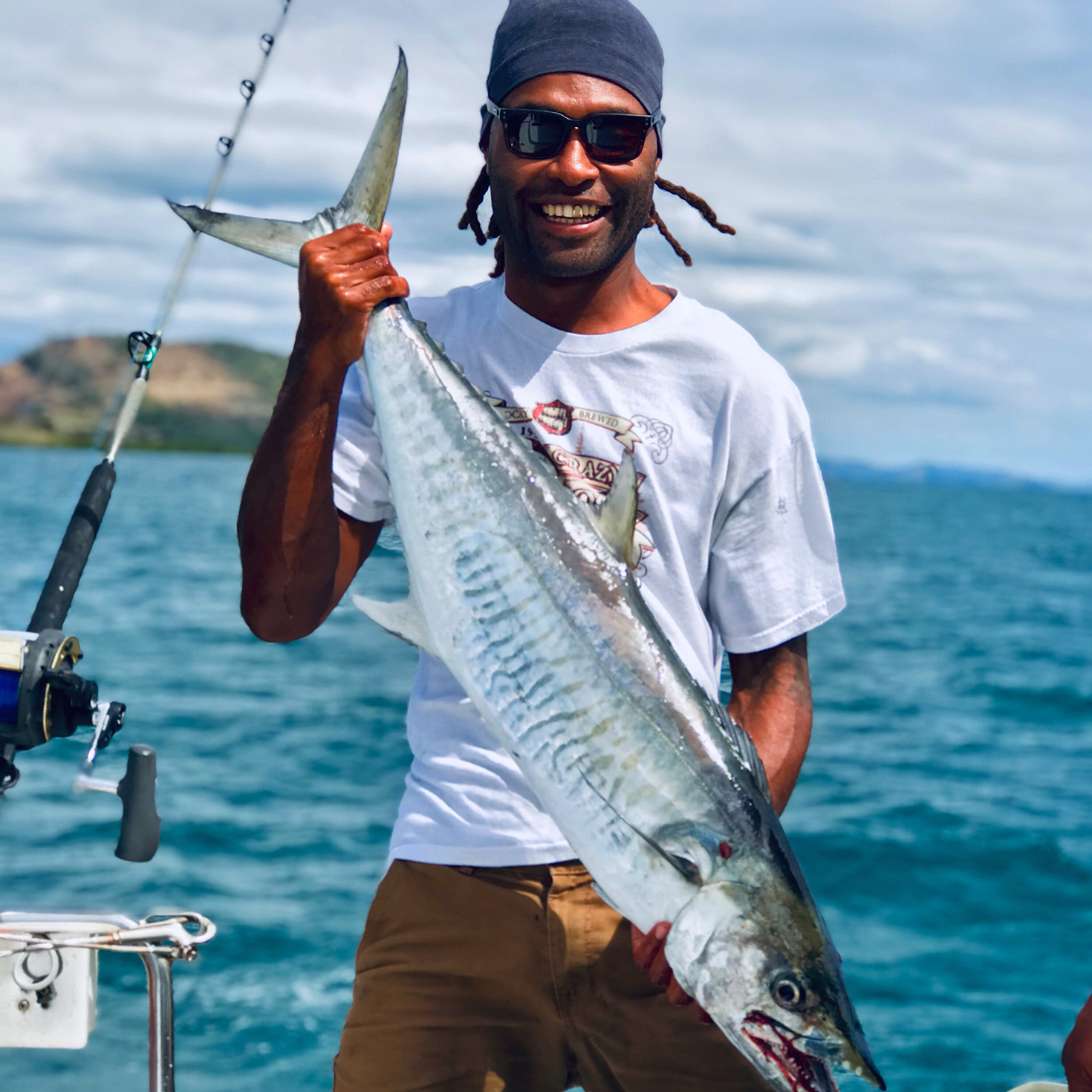 Jerry
Capitaine extraordinaire
Jerry is our very own Captain Jack Sparrow! A Class Six Engineer, Jerry is the one you want on board when sailing Fiji's waters. Born in the Yasawas, and with years of sailing under his belt, Jerry brings a wealth of knowledge, care, and some seriously fun times to the job. He's also a master at getting the best coconuts! When he's not sailing Fiji, you'll find him on a wave or on the water catching a fish.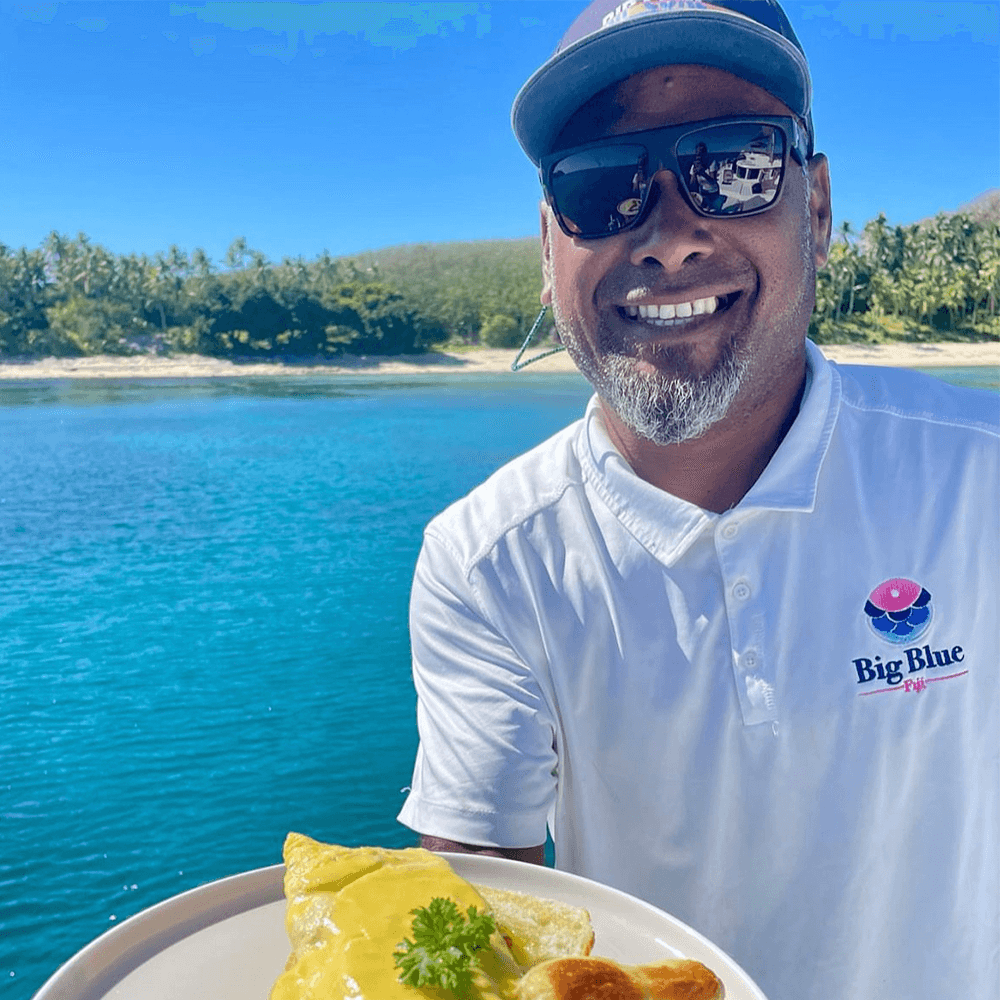 George
Our second capitaine extraodinaire
George is as fantastic with boats as he is with guests! George is always on hand to put you in the right place at the right time for any water activity or island excursion, and to make sure you're well looked after and drinks are topped up whilst you're on board. From heading out for a dive, going for a wake skate, catching a wave, or going for a hike, George is on hand to make it happen. He's always smiling, is great fun, and has the most infectious laugh around.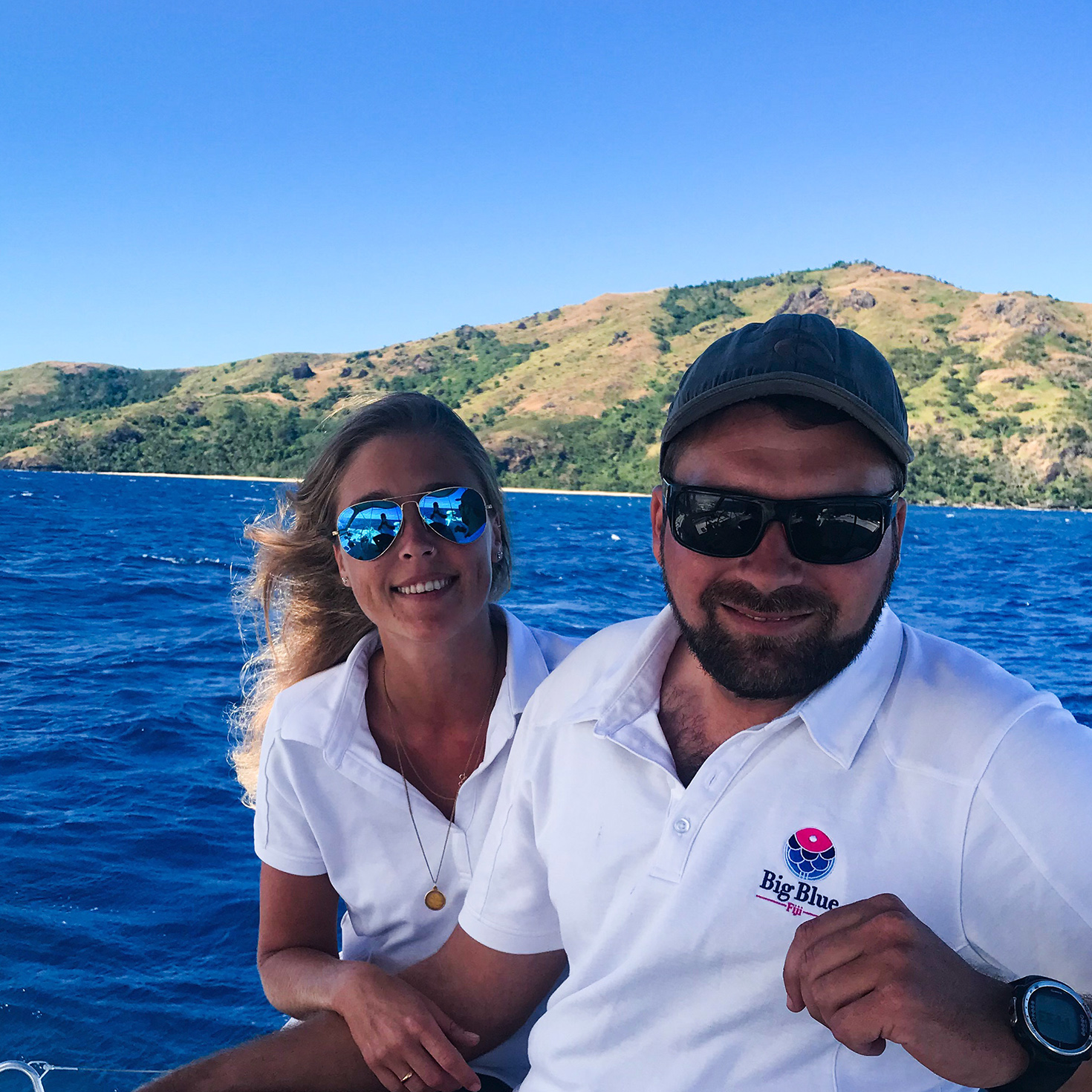 Laura & Joe
She fills tummies & he blows bubbles
Originally from England, Laura and Joe are now proud to call Fiji home. Laura has a passion for food and will lovingly prepare delicious fresh meals, as well as making sure your glass is always full. She is a master with allergies and dietary requirements and will make sure you are well looked after whilst on board. Joe, a scuba diving and freediving instructor, has over 10,000 dives in Fiji under his belt from the last 15 years of living in Fiji, and plenty more from around the globe. His passion for the ocean is sure to rub off on you whilst you explore beneath the surface together.
Start designing your journey into the extraordinary...